Facebook
l
Tumblr
l
Fanfiction
l
Gallery
l
Tectonic Divergence
By the way, this is a fucking bad idea!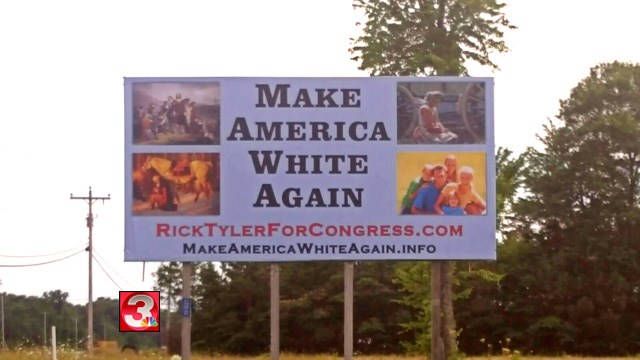 He decided to use our joke code for
what stupid Trump really
means when he says
"Make America Great Again"
I'm going to introduce you all to Dixiecrat Rick Tyler. Do you know how I know this man is a Dixiecrat? Because he cites Bible versus to justify being a racist prick and an anti-miscegenationist.
I bet y'all don't know what miscegenation is. I didn't either until I had to look it up. Mostly those who don't know this word are normal, sensible people who have no problems in interracial, or actually, intercultural and inter-ethnic relationships and marriages.
Because, as science said, race is actually a figment of our imagination. There's no such thing as race in the human species. There's more racial diversity in fruit flies than there is in human genes.
The only reason why there's a man with very, very dark skin, and a man with very, very light skin is due to which genes are turned on or turned off.
There's a theory that's proving more and more fact lately that we're all more or less 50th cousins of each other. And the reason is due to the Toba Supervolcano eruption that caused a bottleneck in the human genome. That at one time, we were once racially diverse. We're not anymore.
It's why I keep saying that we're all BROWN. We're just all a different shade of brown. Hell, to prove my point, because I've been wearing my tank tops now a days and going out for walks in the sunshine again, guess what's showing up more in me? My olive, more Middle Eastern and Native American skin tone. I'm becoming more and more butterscotch. I'm not the sickly, pale yellow I used to be.
Why? Because I'm a mixed mutt. I am as the old people think, interracial. You don't get hair as curly as mine without some form of African ancestry in you.
Well, this guy is against all that, so, he's against me. And my family. What a shock?
Unfortunately, the local news didn't read anything off of his website, so, I'll just let it speak for itself.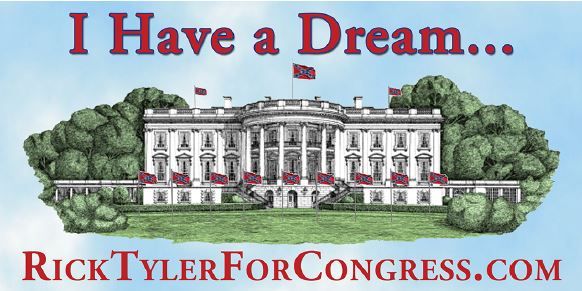 I have a Dream too, Mr. Tyler.
I dream that people like you
will eventually die off.
Behold, his thoughts on Dr. Martin Luthor King. Prepare to be offended.
A major component of the subversive agenda to destroy America involves the creation of false heroes…and no greater or more profound manifestation of this phenomenon exists than the gargantuan fraud of the Martin Luther King national holiday.
Yes…America has been sold a massive bill of goods in the promotion of the scoundrel King as some kind of national hero!

This man just called one of our greatest leaders in Civil Rights, who was assassinated because he wants everyone to be equal, that everyone should not be judged by the color of their skin, but by the integrity of their own hearts. This asshole just called Dr. King a fraud.

I've always taken Dr. King's words to heart. Which is why I don't judge people by their color or their religion, I judge people on how much of an asshole they are to me. I don't care if you're white, if your black, if you're blue with purple stripes, if you treat me like garbage, I'm gonna treat you like garbage. It's that simple.

I don't care what you look like at all. I don't care if you believe in God, Vishnu, Jesus, Satan, or the Flying Spaghetti Monster, if you're an asshole to me, I will treat you like an asshole.

Not exactly what Dr. King had in mind, but again, if you noticed what I said there. I said, I don't care what color you are or what religion you are. But if you treat me bad, I will do the same to you. If you are nice to me, I will be nice to you. That simple.


King was a crass con-man and charlatan. He was up to his eyeballs in association with leading avowed Marxist operatives of his day.

And this man is running for Congress in my district. Rick Tyler.

Here's his website.

ricktylerforcongress.com/

Tell him how much you appreciate his work.

He's against the Civil Rights, he's an example of the extreme Right-Wing Evangelical Christian assholes that because they're finding their power slowly drained away by progressives who want everyone of color to be on equal footing, well, he can't stand that he's got his apple cart taken away. Men like this see everyone else who isn't him, isn't white, isn't Christian as inferior.

Behold, this man has White-Protestant Straight Man written all over him!


Once again, all of you are free to use
White Protestant Straight Man
for all your needs.
White Protestant Straight Man, he can't stand it when them darkies want to be treated equally. Oh, hell no!
Someone told me that this guy wasn't racist. Tell me, does this sound racist to you?
Only through sophisticated brainwashing and intense psychological warfare have white Americans been induced to abandon the God ordained position of oversight established by their gifted and determined ancestors.
As the white race has proceeded to abandon and abdicate from the leadership and dominion status bequeathed to them by the sovereign hand of God…the American nation has devolved steadily into a state of chaos and collective dysfunctionality.
I think that's being racist. Saying that God put the blessed White Man as the top of the pyramid? Saying we need to go back to that? Back to perhaps the 60s when there was lynchings? He says the 1960s was a paradise where there were no crimes, people could keep their doors unlocked, nothing to worry about the Muslim terrorist scare. Yeah, he hates Muslims too. Guess that means he hates my mom. This man doesn't like my family, that's why he's an asshole.
But you know what else happened in the 1960s that no one had a problem with due to well the White Folks being in charge in the South? Lynchings. You know, hanging African Americans because they're black and they're the animal race and they need to be treated like the animals they are.
Let's go back to the 60s when there were lynchings!
Rick Tyler is a Segregationist.
Of course, as time progressed, the festering problem of inherent, irreconcilable differences between the black and white races inevitably led to the chaos and turbulence of the mid-20th century, at which time an emboldened tyrannical federal power made the ultimate move toward forced integration of the races under the guise of so called civil rights.
Predictably, this forced transition to an utterly unnatural and untenable integration construct has led to the inevitable result of a rapidly increasing level of interbreeding between black and white…a phenomenon scientifically known as miscegenation. It is obvious and readily observable that miscegenation hastens an irreversible alteration of the racial composition of those who are its byproduct.

Historically, this has always been understood as an undesirable outcome…hence the long established taboo against its practice.In short, integration leads to fraternization…which in turn results in miscegenation.


If God's foundational law of kind after kind is to be restored and maintained it will only be as a result of willful and determined conviction on the part of those who comprehend its vital importance. What is at stake is nothing less than the preservation of that which the sovereign God of creation has established and pronounced as good and worthy.
Yup, that's a Dixiecrat. He's got all the bearings of one. They're still around and they're still flying their fucking racist flag too. YES! The Navy Jack is racist, you idiots! It was flown for the expressed purpose to give the Unionists the finger when the Southerners were told to free their slaves.
Oh, and apparently this guy thinks African Americans need to get on a boat and return to Africa. Like the slaves were told to when they were freed after the Civil War if it weren't for the Radical Republican movement who were anti-slavery, and pro-reconstruction, and were called the bleeding heart liberals during the day by both conservative republicans and pro-slavory democrats.
Remember, this was BEFORE the party flip and the Southern Strategy was being used by guys like Barry Goldwater in the 1960s.
Well, Rick Tyler is basically turning the Southern Strategy on its head so much that even Republicans in my state don't want anything to do with this asshole.
"There's no room for this type of hateful display in our political discourse. Racism should be rejected in all its heinous forms in the Third Congressional District and around the country."

Ryan Haynes - Tennessee Chairman of the Republican Party
Yeah, even the Republicans hate this guy and don't want anything to do with him. Looks like Evil has Standards.
Now, granted the only thing Rick Tyler has to say that is correct is our stupid Political Correctness world. I hate PC. I really do. But the difference between me and some asshole yokel flying the Navy Jack and Rick Tyler is that Rick Tyler is running for office and no doubt wants to put his beliefs into actual law. He wants to be a man in power. We need to keep people like Rick Tyler out of power. We need to look at them as the jokes they are.
They can spew their garbage all they want, that's freedom of speech, but the moment when they want to put that garbage into practice, that's when they crossed the line. Because then they really are oppressing others. That's why it's okay for him to spew his rhetoric, but it's not okay for him to practice his rhetoric.
I am not for segregation.
I am not for prayer in schools.
I am for integration.
I am for openness and learning about other cultures by still holding onto your own.
I am for learning other people's languages, but still holding onto your own.
I am for helping my brother or my sister regardless to their color or their religion.
This man does not speak for me or my state. At all. This is not Tennessee. And we Southerners need to make people like Mr. Tyler realize that. We don't want to go back to the 1960s. We want to grow and move forward.
And no one in the big cities in 1960s could leave their doors unlocked, just like they can't today either. So, things aren't as pretty as you might think they were. The whole leaving your door unlocked happened in certain areas, like rural areas or very small towns.
#makedonalddrumpfagain