So, yeah. Yeah....
We are this close to having Sanders vs. Trump, THIS CLOSE!
Because there is a light at the end of the tunnel, Bernie won New Hampshire Primary on the Dem side.
But, yeah, Trump crushed the other Republican candidates in New Hampshire. Here's the funny part, Donald Trump was booed on the stage when he brought up Imminent Domain. They booed him! But he still won?
How the fucking hell does that work?!
I think I love Sander's statement of he wants to run against Trump because he knows he will win.
I know he will win either.
It's up in arms if it's a Trump vs. Clinton race, but a Sanders, vs. Trump race...Sanders will win.
But need I remind all of you...
Donald Trump...the guy who wants to put in place something that Hitler put in place during the Nazi Party occupation of Germany...but with Muslims...
This is the guy whom the Republican idiots are voting for.
This is the guy who states that the minimum wage is TOO high already! 7.25 an hour is too high! That's what he thinks. 7.25 is barely a living wage for MOST Americans, including myself who by the way doesn't even have kids. But I do have college loans I need to pay. I can't pay them because I don't make enough money.
And he thinks it's too high. Shut up, Donald Duck Trump.
Bernie wants to raise the minimum wage to 15 bucks an hour. Realistically, that may be a bit much, but fuck it, that also means that other industries that pay just a little over minimum will be paying their guys 20 dollars.
Hell, that'll make a certain Scrooge pay his sales employees whom he's pretty much spat on every day a proper wage for once.
Oh, it'll mean he'll have to sell this eye sore...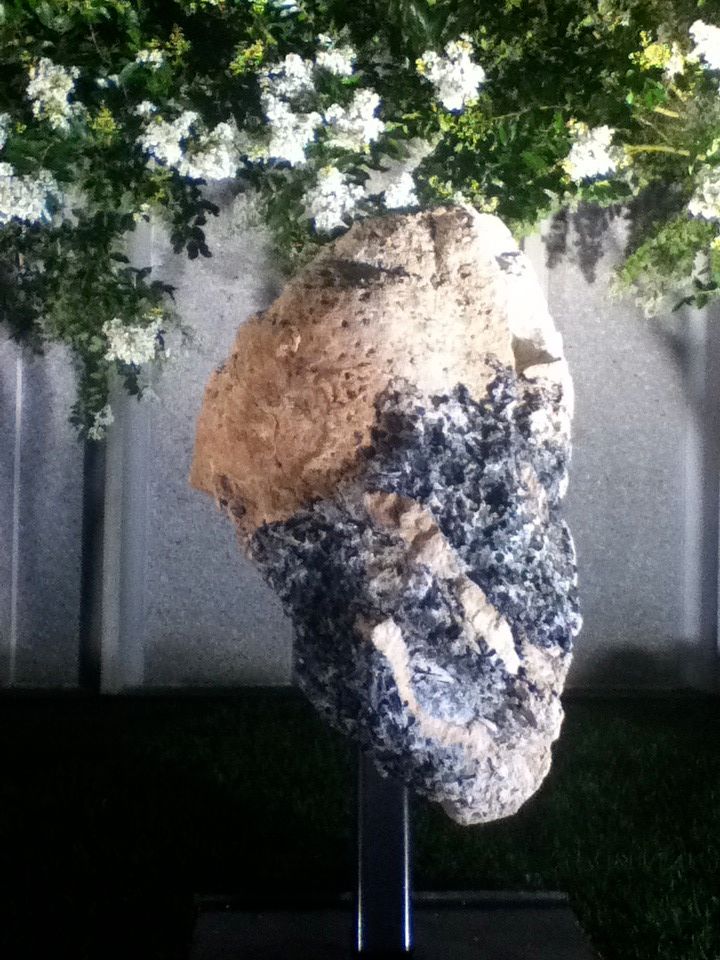 That's what he bought with the many raises that bum owed to every employee selling his crap jewelry.

But why do they support Trump?
Because he hates Muslims, he hates Mexicans, he doesn't want to pay workers their fair share. He wants Mexico to pay for a wall that will be built by illegal immigrant slaves in Iowa.
And some of you are saying: "What the fuck, Ghostwalker?! Why are you saying something about illegal immigrant slaves in Iowa building Trumps wall? Where the fuck did you get that?!"
I'm serious, there was an AM radio talk show host from Iowa that stated: "I have a plan of getting rid of all the illegal immigrants from Iowa. I post a road sign up that states if they don't leave within 30 days, they become PROPERTY of the State of Iowa. And we will put them to work building Trump's wall."
And then when a caller called him out on his comment, he then said: "What's wrong with slavery?"
This man is supporting Trump. Which I would like to add...had this to say about this idiot's state.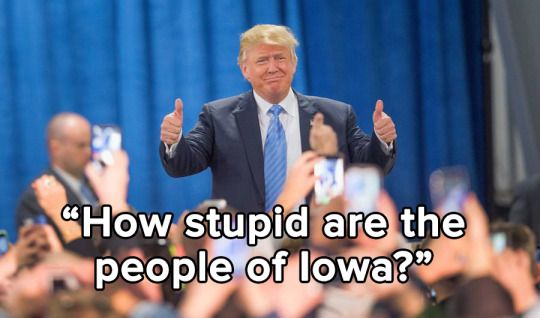 How many times do I need to remind what kind of man we're dealing with here?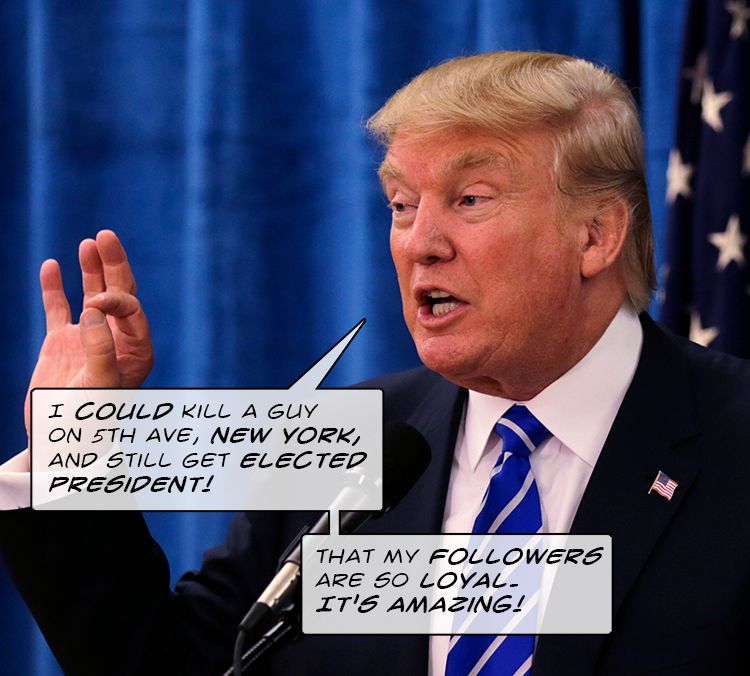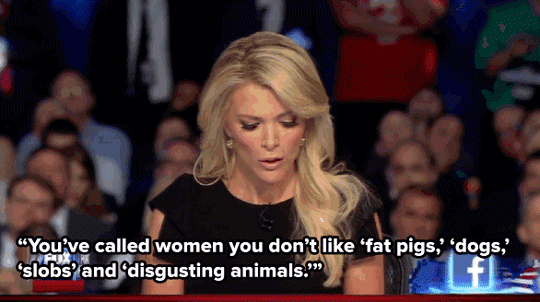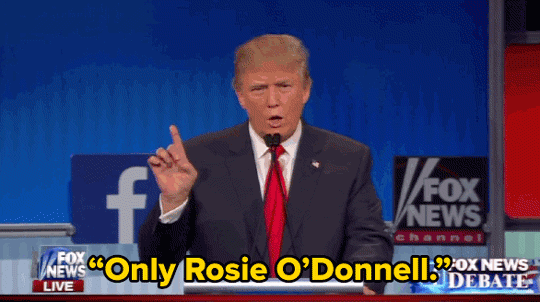 Really? This is the guy you guys want as your party's candidate for the presidency?
You know, if it honestly will become exactly what I think it will, a Trump vs. Sanders thing...
This is literally going to become a battle of Good (Sanders) vs. Evil (Trump).
For the first time in 70 years, since World War II, we are having a true battle of Good and Evil.
#feelthebern
You wonder why I cover Trump so much...it's because it's obvious, I knew it was going to happen. And once Super Tuesday rolls around, we'll go ahead and call it...Trump will be the Republican nominee.
I'm just keeping my fingers crossed that Sanders will be there to take down that monster with the stupid hair once and for all!